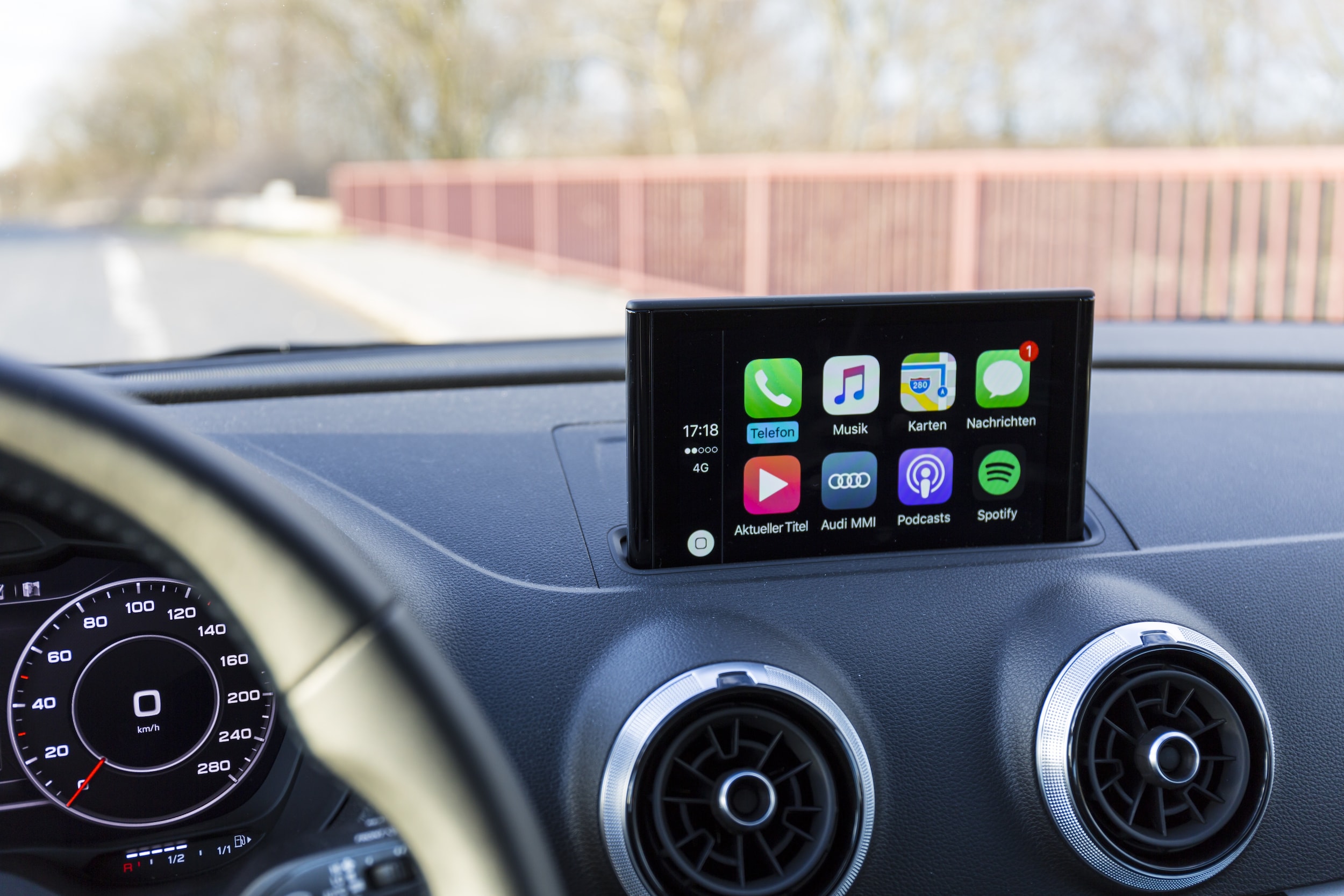 What is Apple CarPlay, and How Do I Set it Up?
Apple CarPlay is the smarter, safer way to use your smartphone while you drive by connecting your device to your vehicle. CarPlay is the ultimate copilot—assisting you with directions, music, voice-commands, calls, texts, and more, so you can stay safe behind the wheel (while still staying connected to your world).
Nearly every new car offers the CarPlay feature—connected through wireless Bluetooth or a simple USB cable. CarPlay will work with voice activation or your vehicle's interior control knobs, buttons, and touchscreen pad to assist with anything you might need while you drive. With CarPlay's many safety-smart features, you'll be able to keep moving with your hands on the wheel and your eyes on the road.
1. Maps and directions. One of CarPlay's best features is its connectivity of maps and directions through Apple Maps or Google Maps. The large touchscreen pad allows for effortless guidance through the twists and turns of your route and offers audio turn by turn options or voiceless maps. In a rush? CarPlay can even predict where you're going by using addresses sent to your calendar or email—so you can just hop in the car and go.
2. Phone, text, and voicemail. You don't have to disconnect from your life every time you get behind the wheel. CarPlay will make calls, return missed calls, and allow you to listen to voicemails and texts being received while you drive. Got a text? Simply ask your car to read it for you through the car speakers. Need to tell a friend you're running late? Just hold down the voice-command button, speak, and CarPlay will take care of the rest. Your voice activation will take care of all of your requests if you simply hold down the voice-command button and ask.
3. Music to your ears. Listen to your favorite music, podcasts, or audio-books on the go with CarPlay's Apple Music, Spotify Music, and Audible app features. The large touchscreen pad makes it easy to see what song or podcast you prefer as you easily search by artist, album, song, or playlist. Hold down the voice-command button and CarPlay will become your personal DJ as you ask voice command to play your favorite song, album, or shuffle through one of over 100,000 live radio stations.
4. Connect your calendar. Connecting your calendar to your CarPlay will make your life easier by giving you a quick view of your day while you're on the go. This also makes directions easy—since your car will inherently know where you need to go based on your calendar of events. Have a meeting to call in for? Join with just a tap and take the call on the road.
5. All your favorite apps. CarPlay supports hundreds of smartphone apps that can be organized and personalized by being rearranged exactly where you want them to appear on your touchscreen (just like you can do on your phone!).
Need help knowing how to set up your CarPlay? Here's how:
1. Start your car.
2. Make sure Siri is enabled on your iPhone
To set up Siri, from your iPhone's home screen, tap

Settings

.

Tap

Siri

Tap the

Siri

switch to turn the feature on or off.

Tap

Enable Siri

to confirm the selection.
3. Use the USB port by plugging your iPhone in with a USB cable.
We know life doesn't stop while you drive. CarPlay will make it easier, safer, and more fun while you're on the road. We hope you enjoy your new vehicle (and your connection to CarPlay)!
Contact us today if you're interested in a test drive, new or used vehicle, or—if you just need help setting up your Bluetooth CarPlay connection. We're here and happy to help.
- Your friends at Bob Penkhus