Here at Bob Penkhus, my family and I have been selling cars since 1957.  In those 60 years, we have seen a tremendous amount of changes in the safety features of our cars. Today's vehicles have features like; Back-up Camera's, Anti-lock brakes, Blind Spot Monitors, Lane Departure Warnings and Automatic Emergency Braking, cars have never been safer. 
But there is another challenge we are all facing, a huge challenge, some call it an epidemic.  It is distracted driving. Distracted driving is a risk to our families, your children and our communities.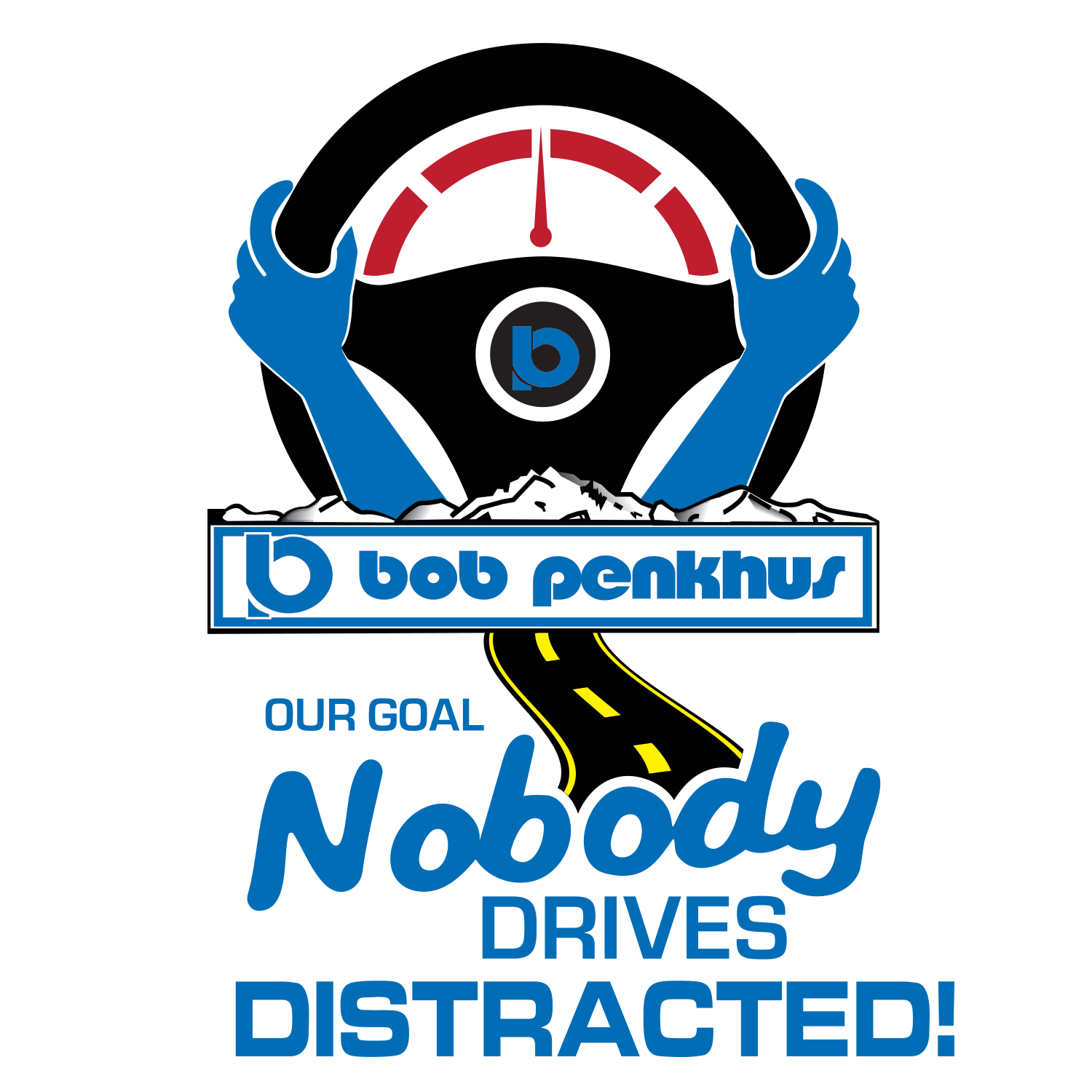 Distracted driving is all too common. Think about your daily commute. How many times have you looked over and seen someone looking down at their phone? Even if it's just for a brief text, the results can be deadly.
At Bob Penkhus, we are going to lead the charge on this important issue by talking about it and doing our part to change the statistics and help you keep the ones you love safe.
At Bob Penkhus, our goal is Nobody Drives Distracted.
We believe that
YOU
are your cars best safety feature!
A Few Distracted Driving Statistics:
Over 2.5 million people in the U.S. are involved in road accidents each year. The population of the US is just 318.9 million.
Of these, 1.6 million have a cell phone involved in them. That's 64% of all the road accidents in the United States. Over half the road accidents in the States have cell phones involved,
37,000+ people die in automobile crashes in the U.S every year
8 people are killed every day in the U.S. as a result of crashes involving a distracted driver.
Every year, about 421,000 people are injured in crashes that have involved a driver who was distracted in some way.
1 out of 4 car accidents in the US are caused by texting while driving.
Every day, 11 teenagers die because they were texting while driving.
25% of teens respond to at least one text while driving, every single time.
11% of car accidents leading to fatalities are related to distracted driving.
You are 3 times more likely to crash when performing a visual or manual activity-such as reaching for a phone or the radio.
When you send a text, you take your eyes off the road for about 5 seconds. That's the time it takes to drive the length of a football field going 55 MPH! (U.S. Department of Transportation).
At any moment during the daylight hours, about 660,000 drivers are handling cell phones or other electronic devices while driving in the U.S. (National Highway Traffic Safety Administration).
You are 3 times more likely to get into an accident when distracted driving by manipulating a mobile device (Virginia Tech Transportation Institute).
What Is Distracted Driving?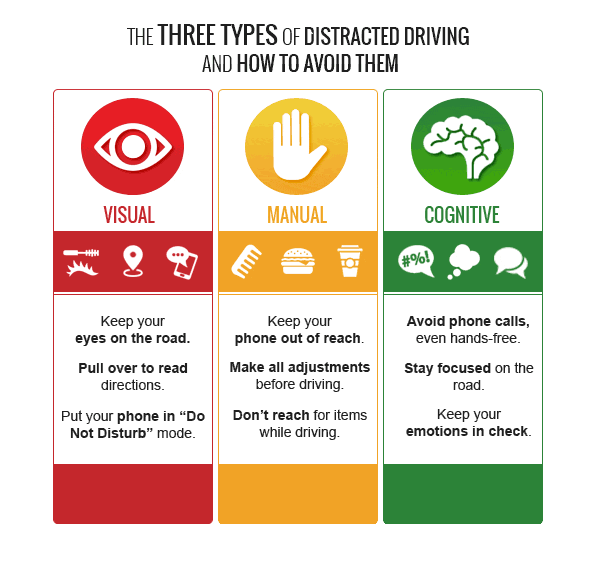 Distracted driving means driving while not fully paying attention to the road. Many people think of texting and driving or talking on the phone when driving; however, you can also be distracted by:
Reaching for your phone.
Changing the music.
Using an app.
Checking your GPS or map.
Taking a photo.
Checking email or posting to social media sites.
Eating and drinking.
Putting on makeup/grooming.
NOTE: There are apps that help fight distracted driving by helping to keep you off your phone while you are behind the wheel.
Even talking to a passenger in your car can be a distraction. You are distracted ANYTIME your mind and/or your eyes are off the road.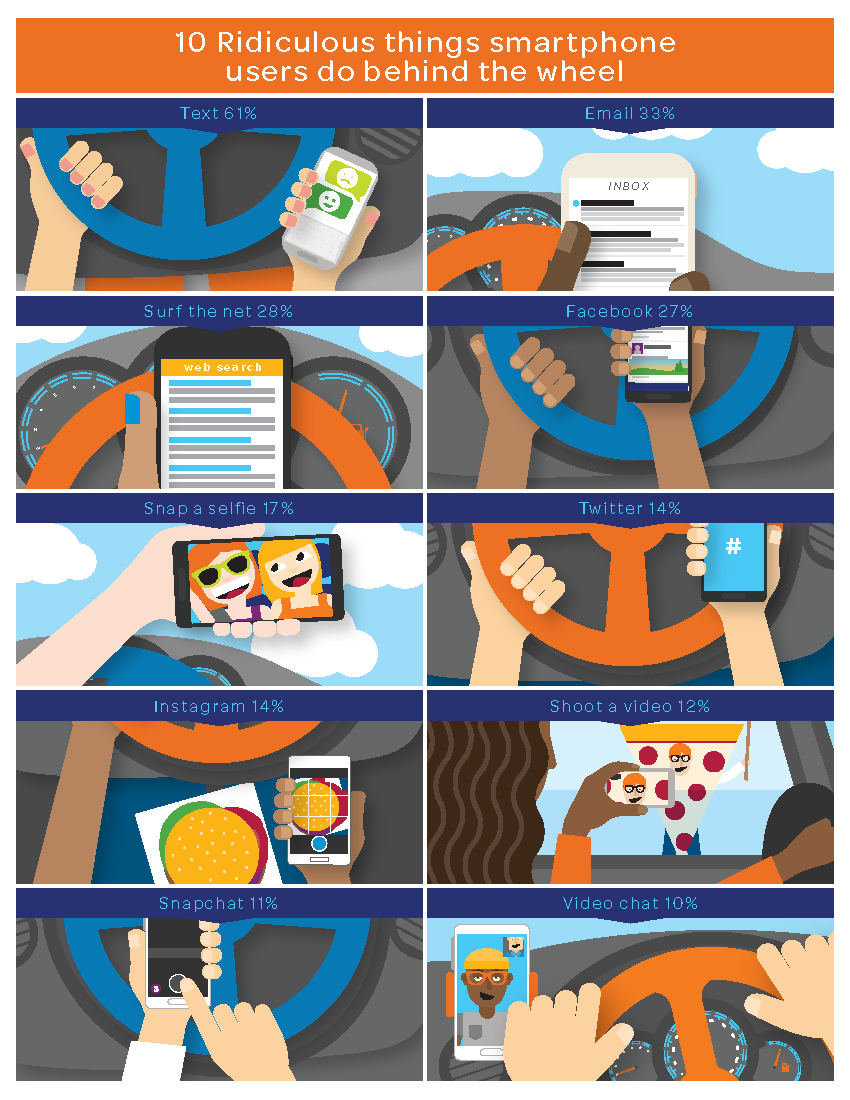 What can I do to combat distracted driving?
As a driver, it is your responsibility to keep yourself and those around you as safe as possible. This means keeping your hands, eyes, and mind on the road at all times. A few small adjustments to your driving routine could save a life. For example, before you get in the car:
Turn your cell phone off or on airplane mode.
Finish what you're eating/drinking.
Set your GPS toward your destination.
Finish your hair or makeup.
Make sure your kids are properly buckled (so you don't have to check while driving)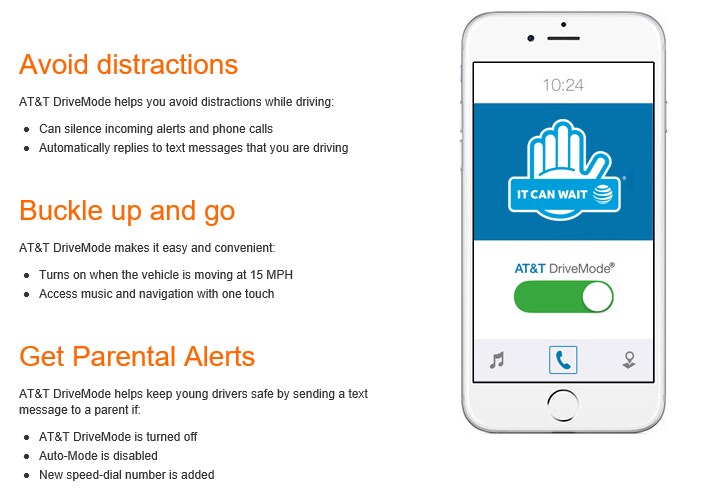 Are there apps to combat distracted driving?
Yes, there are a few apps you can download to your phone (iOS and Android) that monitor and, in some cases, reward you for driving without distraction.
Additionally, there are certain apps that prevent you from calling or texting while the car is in motion. These apps can be especially useful for parents of new drivers who want to make especially sure that their kids won't be driving distracted.
Help Bob Penkhus achieve our goal of Nobody Drives Distracted and take the pledge today.
© 2017 AT&T Intellectual Property. All rights reserved. AT&T, Globe logo, It Can Wait, ATT Drive Mode, Mobilizing Your World and DIRECTV are registered trademarks and service marks of AT&T Intellectual Property and/or AT&T affiliated companies. All other marks are the property of their respective owners. AT&T Proprietary (Internal Use Only). Not for use or disclosure outside the AT&T companies except under written agreement.