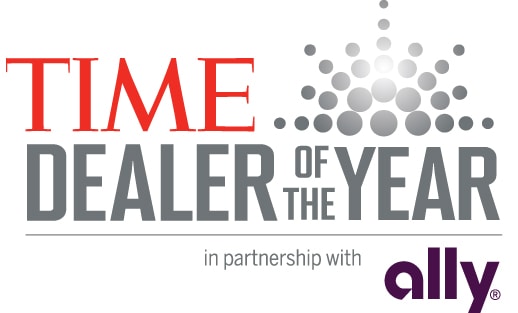 TIME AND ALLY FINANCIAL HONOR COLORADO SPRINGS DEALER


Bob Penkhus Wins National Recognition for Community Service
and Industry Accomplishments at NADA Convention
(New York, NY, November 16, 2015) - The nomination of Bob Penkhus, president of Bob Penkhus Volvo Mazda Volkswagen in Colorado Springs, Colorado, for the
2016 TIME Dealer of the Year award
was announced today by TIME.
Penkhus is one of a select group of 50 dealer nominees from across the country who will be honored at the 99th annual National Automobile Dealers Association (NADA) Convention & Exposition in Las Vegas, Nevada, on April 1, 2016. The announcement of this year's nominees was made by Meredith Long, publisher, TIME, and Tim Russi, president of Auto Finance for Ally Financial.
"The TIME Dealer of the Year award nominees are business leaders and pillars of their communities, who have each given generously to support important charitable causes," said Russi. "Ally is proud to honor these dealers and to recognize their commitment to making a difference."
In its fifth year as exclusive sponsor, Ally will recognize dealer nominees and their community efforts by contributing $1,000 to each nominee's 501(c)3 charity of choice. Nominees will also be recognized on AllyDealerHeroes.com, which highlights the philanthropic contributions and achievements of TIME Dealer of the Year nominees.
The TIME Dealer of the Year award is one of the automobile industry's most prestigious and highly coveted honors. Recipients are among the nation's most successful auto dealers who also demonstrate a long-standing commitment to community service. Penkhus, 66, was chosen to represent the Colorado Automobile Dealers Association in the national competition - one of only 50 auto dealers from 16,000 nationwide - nominated for the 47th annual award. The award is sponsored by TIME in association with Ally Financial, and in cooperation with NADA. A panel of faculty members from the Tauber Institute for Global Operations at the University of Michigan will select one finalist from each of the four NADA regions and one national Dealer of the Year.
"Our continued success and growth requires each of our employees to possess a commitment to excellence toward each of our customers," nominee Penkhus has said.
A 1969 graduate of Cheyenne Mountain High School in Colorado Springs, Penkhus earned a B.S.B.A. in marketing from the University of Denver in 1973. Fresh from college and with his business education background, he joined the family Volvo dealership, which was founded by his father in 1956. "It was one of only ten Volvo franchises in the country when the dealership first opened," he said. "As a child growing up, I was a permanent fixture around the store, so it was a natural that I would join my father in the business."
Penkhus opened his own Mazda store in 1973 and in 1977, he became president of the Penkhus Motor Company, which today has grown to include three dealerships in Colorado Springs featuring brands Volvo, Mazda, Volkswagen and Mitsubishi. "Our concern for customers and employees, coupled with enthusiasm for our products, have resulted in continued success and growth," he has said.
A long-established business leader in his community, Penkhus is also committed to supporting charities and causes both locally and globally. For the past 15 years, he and his wife have hosted the Annual Bob Penkhus Hangar Party to benefit the Juvenile Diabetes Research Foundation (JDRF) Colorado Springs. This event featured private planes, luxury cars and fine food at Penkhus' hangar at the local airport, raising money for the organization.
An avid flyer, Penkhus put his skills to good use after the earthquake in Haiti in 2010. "After seeing the tragic pictures and the incredible desperate situation on the ground, I realized that just cutting a check would not be enough," he said. So he galvanized an effort to bring doctors, nurses and medical supplies to the country on his private plane. "Flying several sorties into and out of Port-au-Prince, I logged 30 hours and 7,139 nautical miles," he said. "The doctors performed more than 100 life-saving operations, and me and my co-pilot, Dave Bennett, shuttled more than 2,000 pounds of medical supplies into the area."
For his efforts, Penkhus was named the Humanitarian of the Year by the Pikes Peak Chapter of the American Red Cross in 2011. "The doctors, nurses and support staff are the real heroes for braving the conditions on the ground in Haiti to give more than 100 Haitians a chance to live," he said. "I would do it again if that big of an opportunity showed up on the radar screen."
He also raises money for and supports many other charities, including National Autism Association; Alzheimer's Association; Children's Literacy Center in Colorado Springs; Cystic Fibrosis Foundation; Goodwill Industries International; American Heart Association; Children's Hospital Denver; Doctors Without Borders; S-CAP (Southern Colorado AIDS Project); American Red Cross; TESSA of Colorado Springs (services for victims of domestic violence and sexual assault); Make A Wish Foundation; Memorial Hospital in Colorado Springs; Penrose St. Francis Hospital Foundation, Colorado Springs; Susan Komen and organizations that fight breast cancer; Wounded Warriors - Challenge Aspen; Cheyenne Mountain Zoo Colorado Springs; Arthritis Foundation.
Penkhus was nominated for the TIME Dealer of the Year award by Tim Jackson, president of the Colorado Automobile Dealers Association. He and his wife, Leslie, have three children and nine grandchildren.
TIME is a global multimedia brand that reaches an audience of more than 100 million and includes the domestic and international magazine editions, TIME for Kids, TIME.com and mobile. TIME.com draws 50 million unique visitors a month and has a social reach of more than 27 million. (Omniture)
About Ally Financial Inc.
Ally Financial Inc. (NYSE: ALLY) is a leading automotive financial services company powered by a top direct banking franchise. Ally's automotive services business offers a full spectrum of financial products and services, including new and used vehicle inventory and consumer financing, leasing, vehicle service contracts, commercial loans and vehicle remarketing services, as well as a variety of insurance offerings, including inventory insurance, insurance consultative services for dealers and other ancillary products. Ally Bank, the company's direct banking subsidiary and member FDIC, offers an array of deposit products, including certificates of deposit, savings accounts, money market accounts, IRA deposit products and interest checking. Ally's Corporate Finance unit provides financing to middle-market companies across a broad range of industries.
With approximately $156.1 billion in assets as of Sept. 30, 2015, Ally operates as a financial holding company. For more information, visit the Ally media site at http://media.ally.com or follow Ally on Twitter: @Ally.
Hours
Monday

9:00AM-7:00PM

Tuesday

9:00AM-7:00PM

Wednesday

9:00AM-7:00PM

Thursday

9:00AM-7:00PM

Friday

9:00AM-7:00PM

Saturday

9:00AM-7:00PM

Sunday

Closed